With all the new backers arriving and trying to acclimate themselves to the persistent universe, I thought it would be a good time to do a brief overview of Stanton. I read and hear confused and misinformed answers about where we are within the Star Citizen universe at this time.  For a longer overview, you can take a look at an early more detailed I did last year on YouTube.
Why Stanton?
When we consider the crowdfunded scope for the Star Citizen universe, there are 100+ star systems planned. The persistent universe we're currently enjoying as part of alpha is the Stanton star system. It contains four Super Earths – Hurston, Crusader, ArcCorp, and Microtech, all of whom have tidally locked moons of their own. Stanton's biome diversity is one of the reasons it was selected as the starting point for persistent universe development.
Official Lore
Stanton was originally discovered by independent explorers. Although the details are fuzzy, most agree that the star system was discovered by a free agent trader. Word of mouth, spread the tale, of a system that contained four Super-Earths. Privateers moved in to capitalize on this extremely rare find. Planets of this size, all within a wide green zone is unusual in its own right.  Combined with the large variances in planet ecologies, even more so. When the existence of Stanton came to the attention of the UEE, they moved in quickly to claim eminent domain. The official reason was to protect and extend nearby jump lanes.
Unfortunately, the original settlers of Stanton hadn't formalized their colonization by filing the necessary paperwork.  Largely made up of homesteaders, prospectors and survivalists, the local populace had no legal rights to Stanton and certainly weren't in a position to dissuade military forces when they arrived.
The uniqueness of the system and the potential resources notwithstanding, the UEE was in the midst of huge economic struggles. A down economy from a hundred-year colonization drought, the UEE could only afford to do the bare minimum to claim its new prize. Naval engineers performed the small amount of terraforming required and underfunded military outposts were established. Lacking funds to do more, Stanton wasn't developed further.
Eventually, the decision was made to sell the system piecemeal to the highest bidders. Large corporations were discreetly contacted and asked to bid on whole planets. It's believed that the winners must have bid trillions to acquire rights. The winners did the obvious, naming the planets after their corporations – Hurston Dynamics, Crusader Industries, ArcCorp, and MicroTech

Stanton as of Alpha 3.3.x
As of Alpha 3.3.5, the persistent universe was expanded to include the first of Stanton's planets, Hurston, its moons and capital city, Lorville. Unlike the locations we've seen thus far, Hurston contains multiple biomes. There are also bodies of water and underground bunkers. While Lorville is still incomplete, it's a must-see location that introduces a working railway system and habicubes with interactive objects. More locations are being added over time.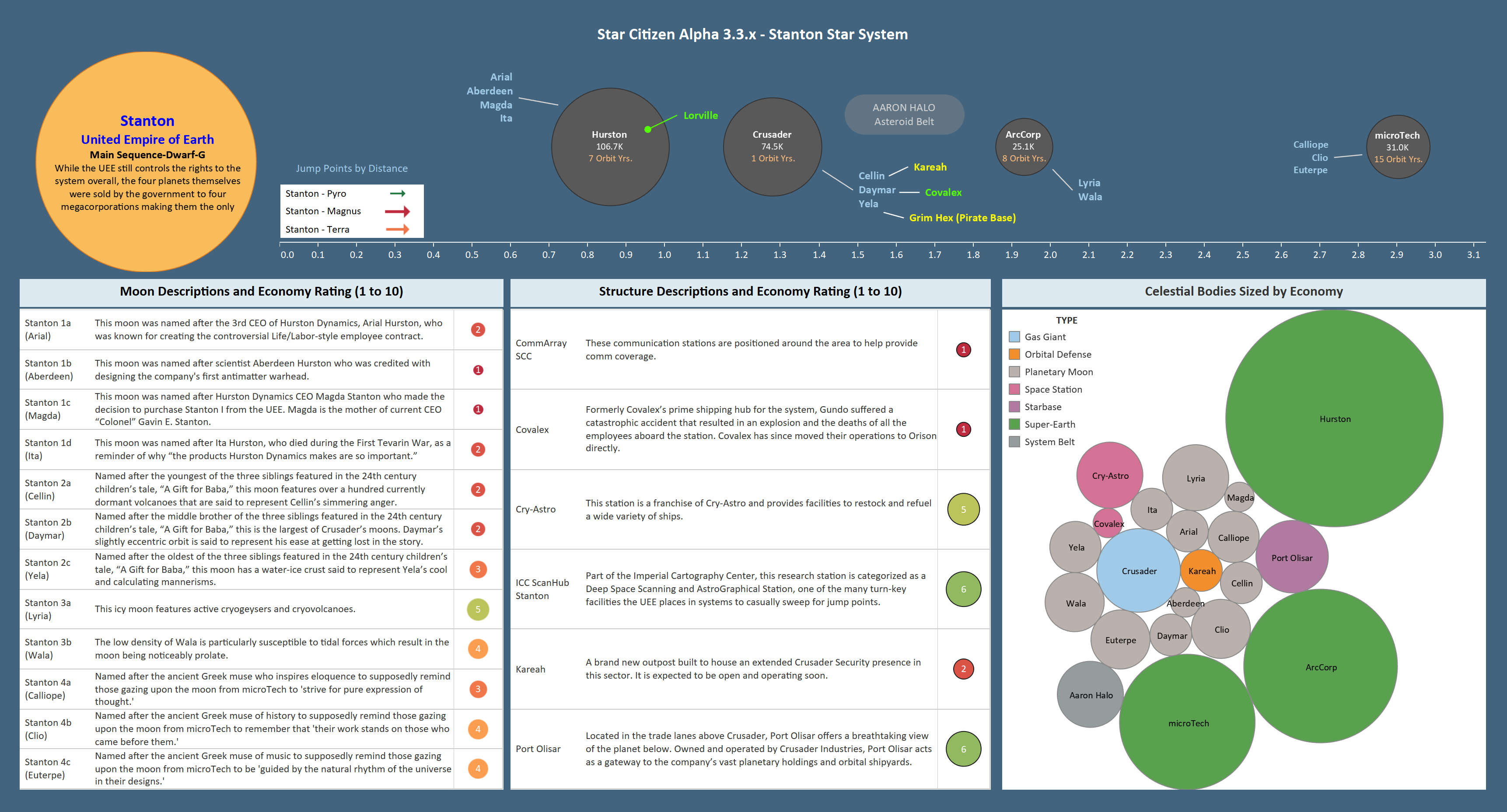 The addition of Hurston brings the landing sights to:
1 planet

7 moons

2 asteroid based locations

1 starbase

2 space stations
This doesn't include CryAstro fueling and repair of the various Truckstops located around Crusader and Hurston. It's also worth noting that Delamar's presence in Stanton is temporary. Delamar belongs in the Nyx star system, a dangerous unclaimed star system. However, it was placed in Stanton for testing purposes when its tier 1 development completed. You can find a more in-depth overview of Nyx on my YouTube channel as well.